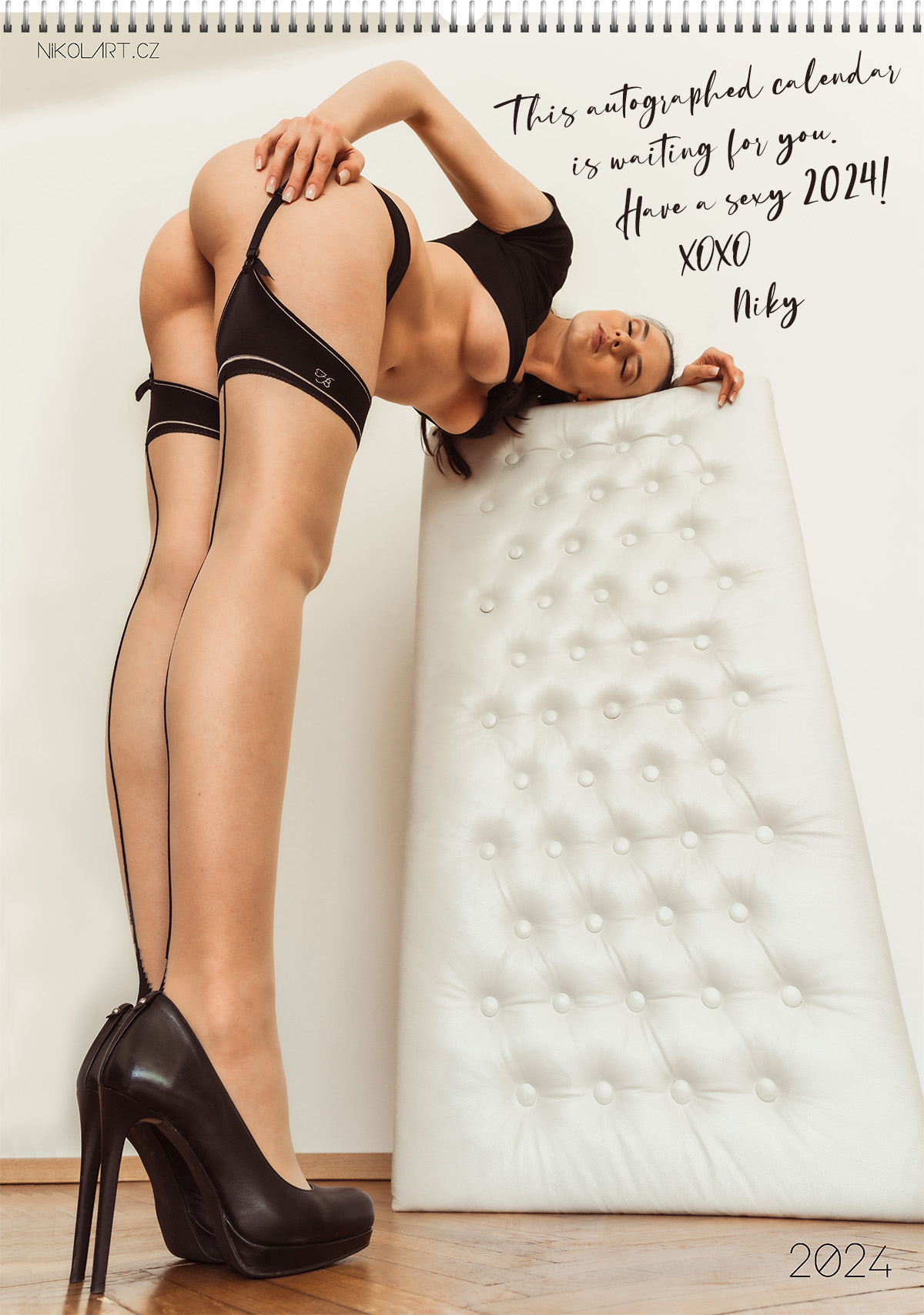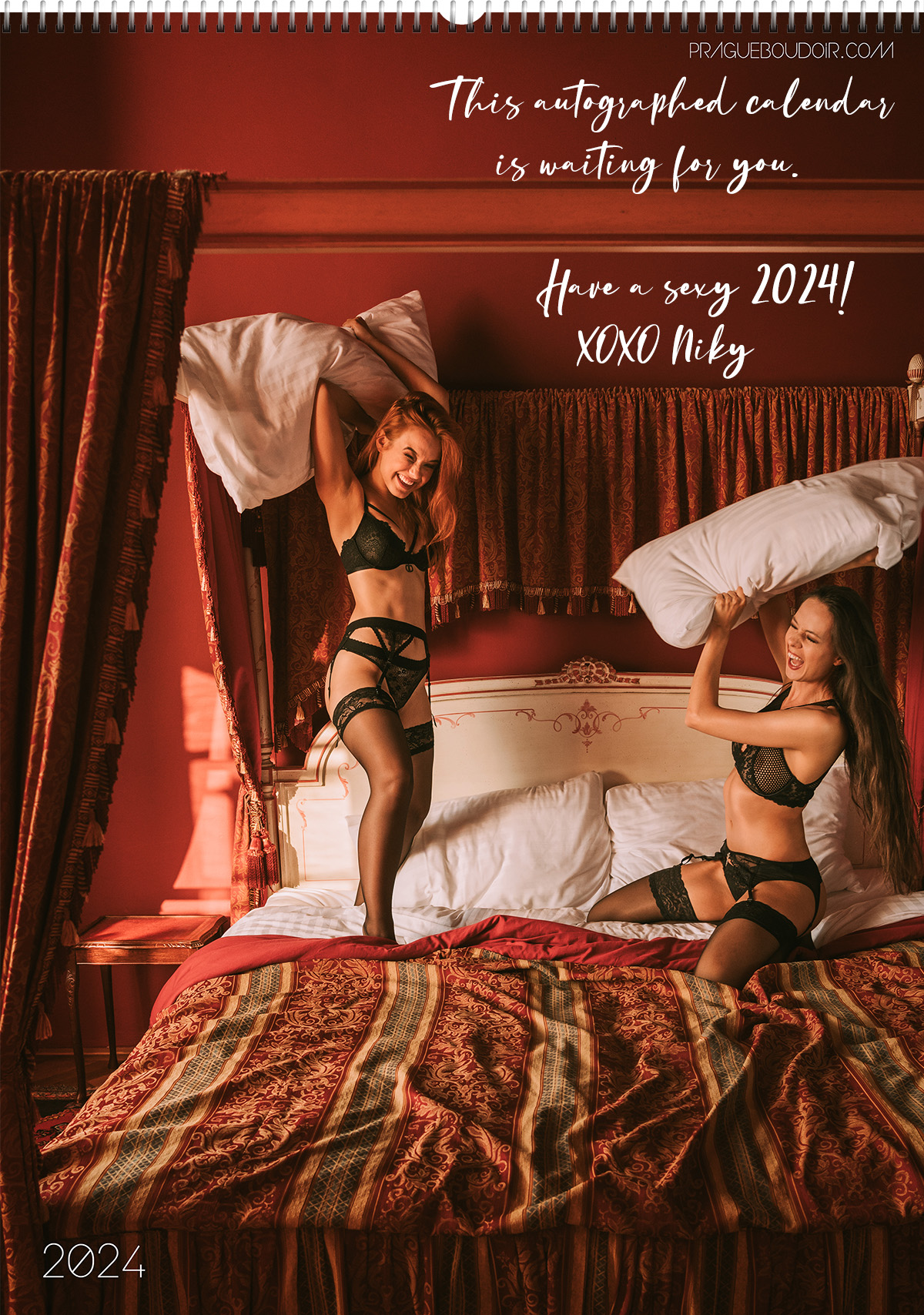 Just like all the previous publications we went to many breathtaking locations that match the models' unique characters and beauty. The largest wrecking yard in the southern hemisphere? Check. The fourth most visited castle in Czechia? Check. Blooming Spanish nature on the island of Tenerife? Check. A private sauna? Check. Three furry Bernese mountain dogs as co-models? Check, check and check! Plus so much more from my very own PragueBoudoir.com studio!
Every month in each calendar contains tasteful NSFW* art nudes, it's just the two cover photos that are safe-for-work, so I can share the covers here.
These are my own productions, posed and creatively directed in my style, seen and captured through the eyes of my husband, at lovely places all around the world and at our boudoir studio.
The Nikolart version contains nudes of me only, in color.
The Muses version is a set of completely different, unique 13 nude photos of 13 models (and one one duo with me), in color.
The technical stuff:
cover + 12 months = 13 unique nude photos in each version
definitely NSFW* except for both the covers which are implied nudity or lingerie
A3 size 297 x 420 mm (11.69 x 16.53 inches)
both versions are in color, on 200gsm paper
metal spiral binding with wall hanger
names of months are in English, everything else is in universal format (one row, with highlighted Sundays only) and rather minimalist to not distract from the photographs
I ship worldwide, in neutral packaging, protected in a cardboard envelope. I'm shipping it personally from the ♥ of Europe so I am delighted to hand sign it for you, or write a personal note – just let me know in the PayPal form when placing your order on this page.
* NSFW: not safe for work, as in containing at least a bare nipple
7th edition now, all thanks to you! For 2024 I'm bringing you two nude calendars in color:
one of me solo and a separate one of my muses, the wonderful models we shot this year. You're getting 26 poster size photos in total!
I'm hand-signing, personalizing and shipping to you, worldwide.
Each individual physical print calendar goes through my hands from start to finish and I very much enjoy adding personal notes for you!
Instant download of the calendar photos is included with your order, as well as an additional free one month access to my members-only site that I'll finally be launching in 2024.**
** up to 3 free months if you got the previous print calendars
Just enter a few details below and think of your friends, family, colleagues who'll never forget how you got them the best gift!
Oh the joy and sparkle in their eyes!
Thank you SO MUCH for being a supporter of all natural feminine curves and timeless, classy nude art, for sparking my creativity, giving me space and medium and audience and the chance to share my celebration of the nude female form & freedom. Myself and everyone involved, we've put a lot of love into each edition of these print calendars as well as into every single photo shoot it contains. I hope that you'll love it back and it will be pleasing your eyes and soul for all of 2024! I always love hearing your feedback, or see where you place the print calendars, so please do share anything and everything with me, there's a WhatsApp button at the bottom right of this page, or use the Contact page.
XOXO
Nikola