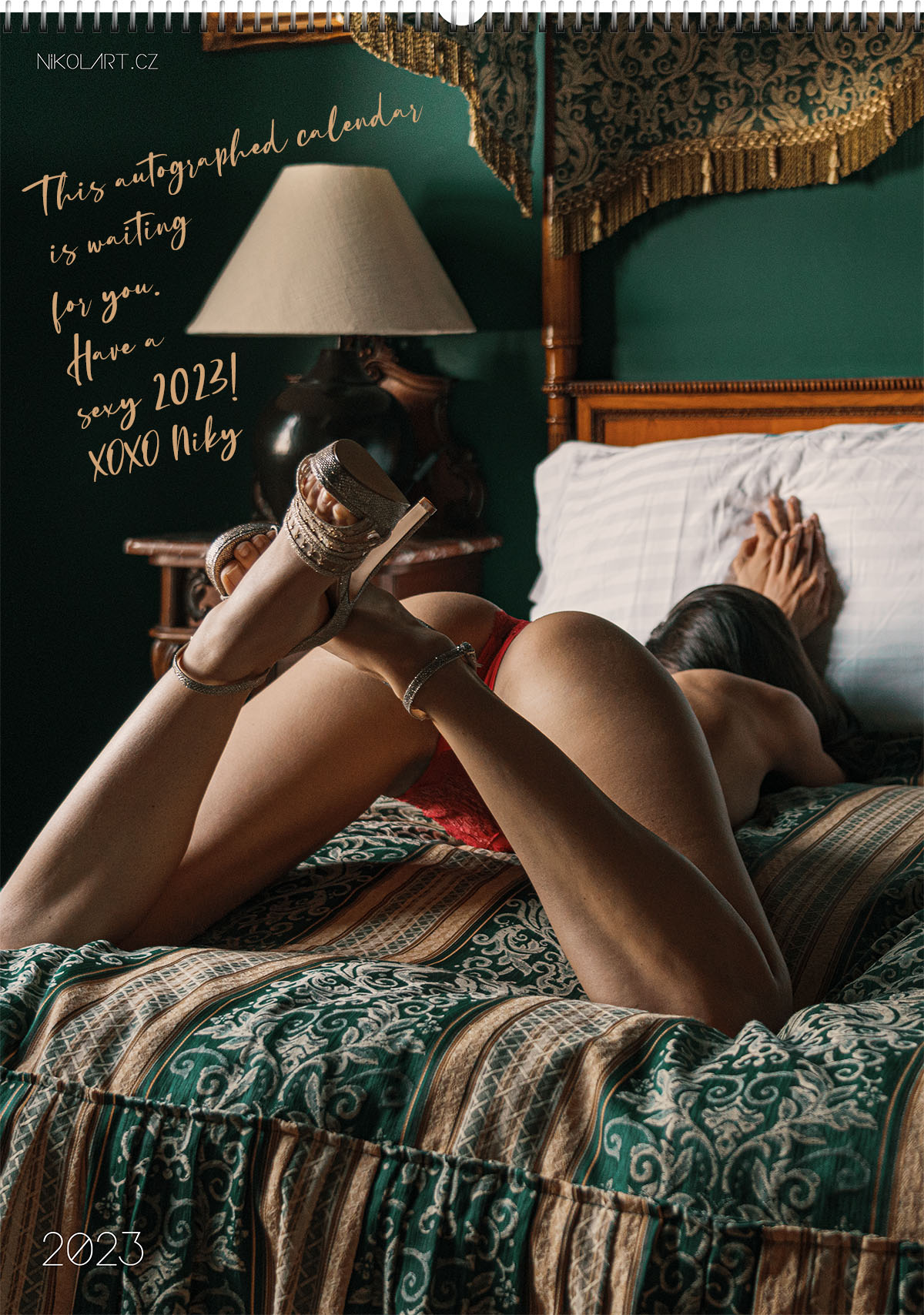 Nikolart version for 2023 (all 12 photos inside are NSFW nudes)
Just like all the previous publications we went to castles, beaches, this time we also took to the streets and rooftops of beautiful Prague and discovered many breathtaking locations that match the models' unique characters and beauty. You can look forward to seeing…
Cover is the flexible superblonde doll puppet @tynnk_aa
JAN features playmate @bianca_model_official in the shower
FEB sees @libka.v enjoying some grapes and champagne
MAR is @realalexiscrystal basking in the sun at our boudoir
APR showcases @terryz_photomodel at a chateau, all royal
MAY reveals @czechout_anna_ at a rooftop downtown Prague
JUN is with @zu_zakova and a set built at our studio
JUL sees @modellinalinn blindfolding @gloria__sol
AUG features @kaculnepovim's nipple-slip in Prague's streets
SEP presents @maky.artmodel on a cigarette break
OCT is @miastune stopping traffic downtown Prague
NOV sees @jaroslava_ptakova_photomodel in a trenchcoat
DEC is @modellinalinn missing her bus and hitchin' a ride
Spring cleaning, last copies are 33% off now.

After five years of these annual print calendars it's time we take it up a notch – twenty twenty three I bring you two nude calendars: one of me solo and a separate one of my muses, the wonderful models we shot this year. You're getting 26 poster size photos in total, 13 of me in color and 13 of all these stunning models, in black and white. What's not to love?
Every month in each calendar contains tasteful art nudes, it's just the two cover photos that are more tame for marketing reasons, so I can share the covers on social media.

I'll hand sign and personalize and ship to you around the world. I do not outsource any part of the production other than the actual printing, each calendar goes through my hands from camera to shipping.
Order now to receive free one month access to my members only site that launches 2023 (that's already two free months if you got the previous print calendars of 2022) and will feature my body of work, curated and periodically updated, an ongoing project with me and my model friends (some of which I reveal to you in this 2023 muses calendar), uncensored and complete with full sets of photos.
Just enter a few details below and think of your friends, family, colleagues at work who'd never forget how you got them the best gift ever! Oh the joy and sparkle in their eyes!
Please check you've selected the correct region above.
You're ordering with worldwide shipping, $20 flat rate.
Select the number of print copies, Nikolart and Muses respectively. Archive is for you in case you missed out on the previous year and would like to complete your collection.
Want it signed? Just tell me.
Any special requests?
To celebrate the nude female form, art, freedom & creativity, please allow me to introduce my 6th annual print calendar, this time the 2023!
These are my own productions, posed and creatively directed in my style, seen and captured through the eyes of my husband, at lovely places all around the world.
The Nikolart version contains nudes of me only, in color.
The Muses version is a set of completely different, unique 13 nude photos of 13 models, all in black and white.
The technical stuff:
cover + 12 months = 13 unique nude photos in each version
definitely NSFW (not safe for work) except for both the covers which are implied nudity
A3 size 297 x 420 mm (11.69 x 16.53 inches)
Nikolart version is in color, on 200gsm paper
Muses version is in black and white, on 200gsm paper
metal spiral binding with wall hanger
names of months are in English, everything else is in universal format (one row, with highlighted Sundays only) and rather minimalist this time to not distract from the photographs
I ship worldwide, in neutral packaging, protected in a cardboard envelope. I'm shipping it personally from the ♥ of Europe so I am delighted to hand sign it for you, or write a personal note – just let me know in the Note field when ordering in the PayPal form.
Grab one for yourself and another for a friend, show the world that you are a fan of all natural feminine curves and timeless, classy nude art. Plus, I'll be forever grateful for your support of my creativity!
I've put a lot of love into this print calendar and I hope that you'll love it back, and it will be pleasing your eyes and soul for all of 2023!
XOXO
Nikola